Collectible Silver Coins from China
|
Many silver coin collectors may not know this, but China has a long history of trading silver from North and South America. We here in the United States tend to focus on our own history and development, and the same goes for coins. However, a little bit of research reveals the depth and richness between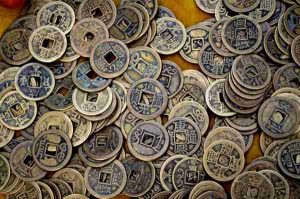 North American silver and China. Between 1500 and 1800, the majority of the world's silver came from Peru and Mexico. And it is estimated by some that China imported nearly 40% of that silver. As a country with now natural supply of precious metals, they relied on importing silver to satisfy their monetary demands.
The Chinese used foreign silver coins more than their own for an extended period of time. Even, having a love affair with the Spanish peso and a particular bust of a king. Today the Chinese government mints many of its own coins, creating collections and series for those looking to expend their silver coin collection. Minting silver coins became a lucrative business in China, and in the late 1800s and early 1900s the Chinese government tried to gain exclusive rights. The coin produced from 1909 to 1911 was the Chinese Silver Dragon and today it is one of the oldest official coins minted in China. The obverse side displays a long, fierce dragon looking directly out with the words "HU-PEH PROVINCE" above it.
More modern silver coin collections include the Chinese Zodiac silver dollar collection. Much like the United States' own president series for quarters, the Chinese minted a silver dollar for each of the 12 Zodiac signs. These include the rabbit, snake, monkey, pig, dragon, horse, tiger, rooster, dog, goat, ox, and the rat all in their own beautiful designs. Another popular Chinese silver coin to collect is the Panda Silver coin. These coins are 99% silver and contain beautiful, striking artwork of the panda bear. Produced by the government, no artist is given credit, but every year a new mint is issued. These coins have become popular collector items because certain cuts have a higher quality than others, and many make it a mission to find the best version possible.
Whether just beginning a silver coin collection, or perhaps one is a long time collector, it is most certainly worth one's time to look into these gorgeous Chinese coins. By adding them to one's inventory, a sense of uniqueness and historical air will become part of the collection. It is important to select a provider that will guide you in the right course while choosing one's coins.